Console Players! We're having issues with the API making it impossible to get data for XB1 and PS4 at the moment.
News
We have released our first version of Battlefield 1 stats! We are still adding more features!

Please be patient while our leaderboards load! We just opened, so our ranks will take some time to level out.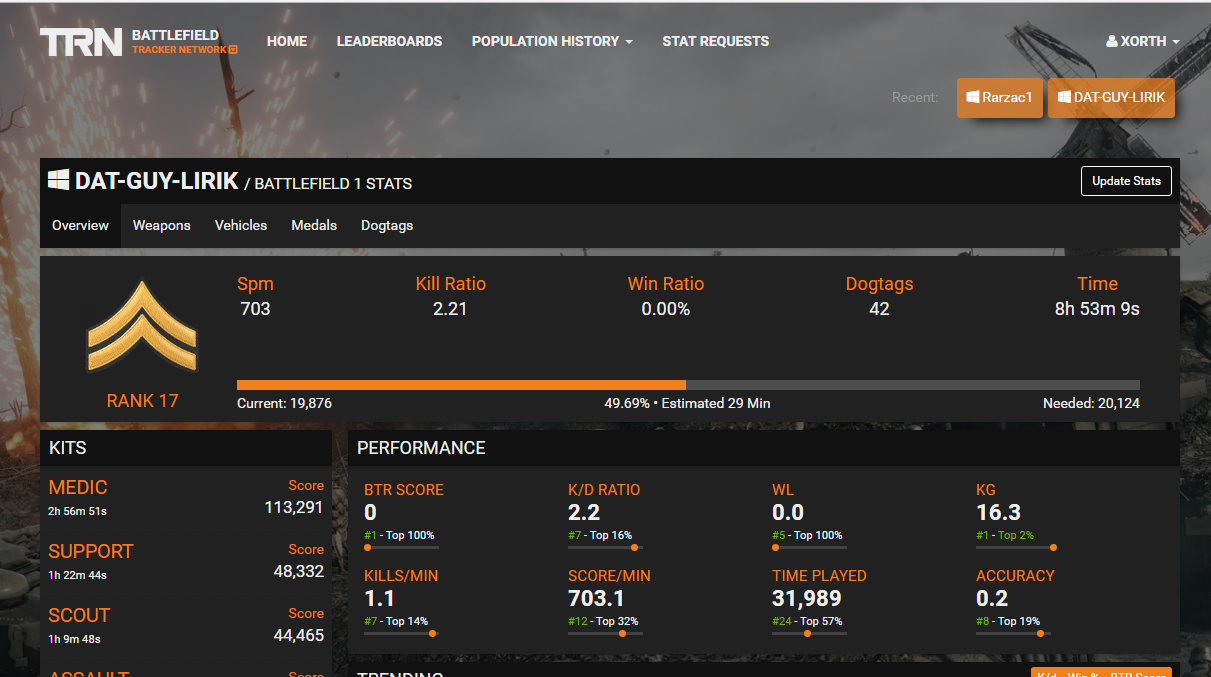 Due to popular request, we have added Battlefield 4 stats. Simply search your name, to get started! Happy Tracking! Don't forget we take Stat Requests and we're going to continue to add new features!

Features
- Stats - withTracking & Graphs
- Cross Platform leaderboards
- Regional Leaderboards

Some of our features:
- Player Pages w/ Ranks & Graphs
- Leaderboards By:
- Console
- All Consoles combined
- Xbox's Combined
- Playstation Combined
- Battlefield Hardline Population History
- More to come! Request some stats!



Player Pages
Leaderboards
Battlefield 1 Leaderboards
#
Gamer
BTR Score
1
xFACTORlGaming

Top 1%

9,285

2
Verone

Top 1%

6,145

3
twitchtvSoltek1H

Top 1%

6,123

4
iN0Ci

Top 1%

5,885

5
Sacriel

Top 1%

5,432

6
sl4v3rs4v3r

Top 1%

5,401

7
FrenzyHunting

Top 1%

5,140

8
GeneralKyle7

Top 1%

4,978

9
EVENNX

Top 2%

4,970

10
Unwritten

Top 2%

4,893